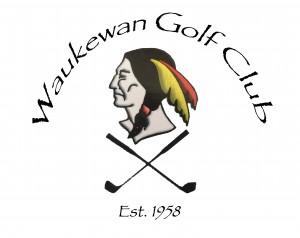 The History of Waukewan Golf Club
Prior to becoming a golf course, Waukewan was a working farm known for breeding horses and cattle. It was also the home of Waukewan's architect and founder, the late Dr. Melvyn Hale (1913-2000). The story begins December 15, 1948 when Dr. Hale purchased the property currently known as the Waukewan Golf Club for $14,000. The purchase included the buildings along with 250 acres of land. At the time of the purchase, the buildings were all painted white but Dr. Hale repainted the buildings red and named the property Almagra Farm. "Almagra", translated from one of the local Indian languages, means "red".
Prior to Dr. Hale, the property was owned by the Dane family of Centre Harbor. The Dane family used the property as a gentleman's farm raising Clydesdales and Belgian horses. After some renovations to the houses, Dr. Hale moved his veterinary practice and family from Wolfeboro, NH to Almagra Farm.
Almagra was a true working farm. The Hales grew their own vegetables, harvested hay for the livestock, and raised various types of animals including pigeons, chickens, hogs, horses, sheep and cattle. The farm also included a dog kennel with one long term boarder of five years.
During his attendance at medical school at the University of Pennsylvania, Dr. Hale learned artificial insemination procedures. As a registered breeder of Aberdeen Angus, he kept a herd of bulls and practiced artificial insemination throughout New England. He was one of the only veterinarians during that time to offer this type of service. His veterinarian practice also included treating household pets, horses, sheep, and almost anything brought to him. He would occasionally remove scent glands from skunks as some families in the area kept skunks as house pets.
Around 1955, Dr. Hale purchased a bulldozer and tractor and began to rough out a nine hole golf course. He spent three years clearing wooded land, moving rocks, and shaping tees, fairways and greens. By the springtime of 1958, nine holes of golf were opened to the public.
In 1963, Dr. Hale closed his veterinary practice and turned his full attention to the golf course. The name "Waukewan" was chosen as the name because Dr. Hale felt people were familiar with that name due to the nearby lake. In the late 1960's, Dexter and Allan, Dr. Hale's sons, joined their father and together completed the next nine holes. The addition of these nine holes completed the transformation of Almagra Farm to the Waukewan Golf Club. Today, the Waukewan Golf Club is a facility featuring 18 holes of golf, a driving range and practice putting area, a wedding and reception hall, pro shop and grill.